From Julia Fox to Dua Lipa, Celebs Are Bringing Back 2000s Low-Rise Fashion
Celebrities are bringing back another fashion statement from the early 2000s and are flaunting it all over social media.
Low-rise jeans had major popularity in throughout the 2000s. Celebrities that defined pop culture in the start of the new millennium such as Lindsay Lohan, Britney Spears, Paris Hilton, Christina Aguilera, Destiny's Child, Rihanna and more were spotted wearing the denim out and about—and even on red carpets.
Over the last 20 years, waistlines have crept upward and belly buttons have gone back into hiding. But over the years, nostalgic clothing has been making a serious comeback—including the low-rise look.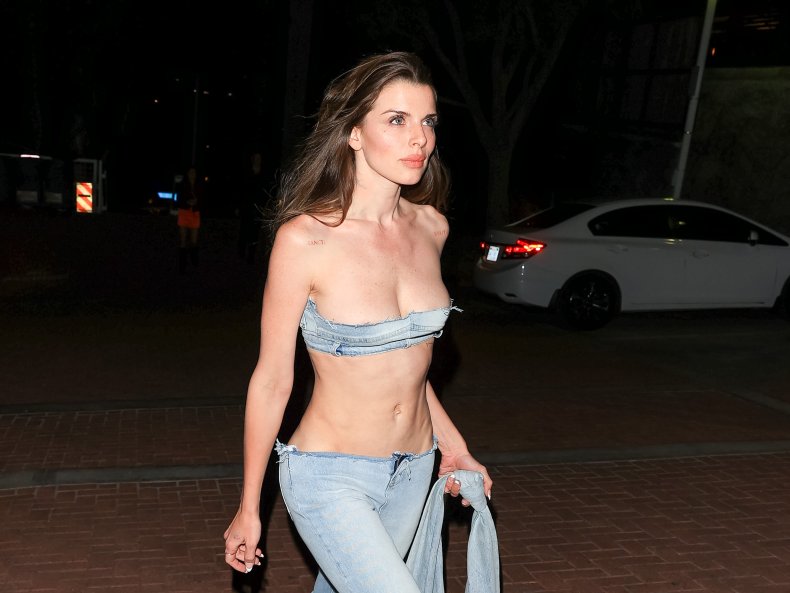 Check out these celebrities embracing the return of low-rise fashion
Julia Fox
Famously known for a brief romance with Kanye "Ye" West and her role in Uncut Gems, model Julia Fox has been photographed in low-rise pants—namely, this pair she cut herself. In a recent tutorial posted to her Instagram, she showed her 1.2 million followers how to cut their high-waisted jeans to make them low rise.
"They're so much cuter like this," she says once she's finished cutting them to perfection and putting them on.
One follower commented, "You guys please don't be shocked when you see me out and about with a fox eyeliner and low rise jeans……"
Dua Lipa
While in the latest city on Dua Lipa's "Future Nostalgia" World Tour, she stopped to take a candid photo wearing a pair of low-rise jeans with a red high neck top.
"When I get involved in the fashion world, it's another outlet for my creativity, another extension of my music and who I am as an artist," Lipa told Vogue in 2018.
Bella Hadid
Bella Hadid, as a world-famous model and activist, has a major influence on what becomes a trend in the fashion world. Hadid has been spotted multiple times wearing low-rise jeans.
"I'm dead-on. I know what I like. I always have, since I was young. And I've never drifted," she said of her style in a recent interview with Vogue.
Kendall Jenner
Kendall Jenner has modeled in many fashion shows. She's represented top brands including Chanel, Victoria's Secret, Prada and Michael Kors. In 2018, she was the highest paid supermodel, earning over $22 million that year.
In an interview with Harper's Bazaar Arabia, Jenner discussed where she gets her style influence from.
"A lot of my inspiration for style I find online and from my friends or people I surround myself with," she said.