Counter Space Host Sophia Roe on Perioral Dermatitis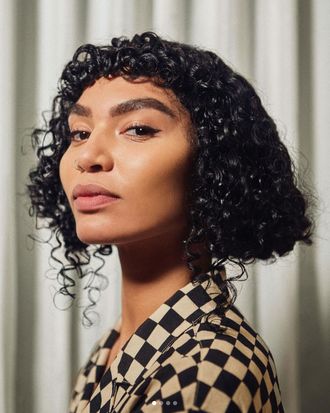 Photo: Courtesy of Sophia Roe
"We look at celebrities or actors onscreen, and we see their 'perfect' skin, but outside of getting work done or skin care, there are so many different technological things and beauty filters to make them look like like that, to get rid of pores, to get rid of lines," says Sophia Roe. "I mean, there are whole scenes that shows will shoot a certain way because someone has a breakout." As the host of VICE TV's Counter Space, where the chef explores wellness through food and welfare advocacy, Roe is on-camera a great deal of time. So the next time you find yourself comparing your skin to those onscreen, she wants you to ask, "Wait, what do they have access to? What have they been doing? Preventatively, what were they able to do in their 20s that I wasn't able to?" Then take it a step further and remind yourself: What you see on "TV's not real!"
Roe knows this practice takes work. Even as someone who is all too familiar with the ins and outs of producing a show, she can fixate on her skin. "At the end of the day, we're humans, and we're looking for things that are wrong or things to fix," she says. That's when Roe opts for a "mirror detox," where she avoids looking at herself in mirrors — even when she's applying her skin care. "I think that it's the best thing that anybody can do. The first time I did it," she remembers, "I was experiencing really bad acne, and I was like, I can't do this. I remember thinking, I have been in the bathroom for an hour just picking my face. This is horrible."
Luckily — or rather, very intentionally — Roe has a very simple skin-care routine. In the morning, she skips a cleanse and instead massages a dropper of hemp oil ("It's completely noncomedogenic!") on her skin for 45 seconds, applies a personalized serum from Curology, and then slathers on a layer of sunscreen. At night, she cleanses her skin, mixes her favorite face mask with colloidal silver, and follows it up with hemp oil.
"Back in 2018, I was someone who was using a ton of serums and AHAs and BHAs and vitamin C — all of the things — and I ended up with horrible perioral dermatitis (POD) around my mouth and even under my cheeks, and I already had breakout- and hyperpigmentation-prone skin," she says. "Stripping back my routine — including my makeup (I used to wear concealer every day, but now, when I'm not on set, I try not to wear anything at all) — was the best thing I did." Her POD was gone within two months.
Below, Roe breaks down her go-to products, including the patches she uses to stop skin-picking, the oil that doubles as a moisturizer, and the acne treatment that gave her clearer skin in just two weeks.
"I've been using hemp oil for about two years — my skin loves it. I read an article about the comedogenic scale and how some oils are pore-clogging a few years back. Hemp oil is a zero on the comedogenic scale, meaning that it will not clog your pores, but it will nourish the heck out of your skin. I don't even use a cream-based moisturizer anymore because this is all my skin needs. It's incredibly anti-inflammatory, so if you have some redness or pimple inflammation, it tackles it immediately. I use this as the first step of my double cleanse and again as a moisturizer. I panic if I only have one bottle left because I truly cannot live without it."
"I follow up the SVA Hemp Oil [above] with this cleanser from Circumference on days where I've been outside or in nature all day. After a casual day at home, the CeraVe Hydrating Micellar Water [below] is perfect."
"I love how clean yet not stripped my skin feels after using this micellar water. I spent about six months with horrible perioral dermatitis. No matter what face wash I tried, it completely inflamed my already irritated face. This product was the only thing that calmed my redness, allowed me to wash my face, and didn't leave my face feeling scaly and dry. I have been using this in my routine for the past two years."
"After my hemp oil, I apply my Curology cream, which is more of a treatment serum. I am truly obsessed with this company, and they get all the credit for transforming my previously hyperpigmented skin; I had severe hyperpigmentation from acne and my perioral dermatitis. Before your cream is made, they set you up with a real-life dermatologist who analyzes your skin via selfie photos and videos that you submit. Once you receive your product, you must send updated selfies so that they can properly alter or shift your cream based on your skin's needs. My particular formula has niacinamide and azelaic acid. I can't remember how I found out about the brand, but I refuse to ever go a day without it because my custom formula truly has changed my skin. I noticed clearer skin after just two weeks."
"I love to lightly spray my face with colloidal silver, and I even use it to mix into some of my powder-based face masks instead of water. The anti-microbial and anti-bacterial properties of colloidal silver are unmatched. This is an incredible product for acne, healing wounds, fungal infections, and more. I've been using it since I was a teenager — I learned about it initially from the mother of a friend of mine. She always sprayed it on her face and hair, and wow, is she beautiful. I wasn't consistent with using it when I was younger, but now I always have colloidal silver in my house."
"This is truly the only face mask you'll ever need. Anytime I feel a breakout popping up somewhere, I apply this mask, and I swear it looks 25 percent better after just 15 minutes. It's truly magical. It helped eradicate so much of my discoloration, redness, and irritation. I have no clue why this product works so well, to be honest; the ingredients are so simple. I've been using it since Golde founder Trinity Mouzon Wofford launched the brand years ago, and I use it every other day whether I have a breakout or not. I usually leave it on for longer while I do my hair or shower. I always have at least two jars in my vanity."
"I really have no preference when it comes to pimple patches. These are just what I have in my cabinet right now. For me, a pimple patch is more about assisting me in not touching or messing with the pimple, which can lead to scarring. I leave them on throughout the day and take them off before I sleep."
"I use sunscreen to protect my skin. I've always used sunscreen, and at almost 33 years old, my dermatologist says it majorly has paid off. I don't reapply it unless I will be outside in direct sunlight all day. I like this one from EltaMD, but I also like Supergoop!"