3 Holiday Party Outfits for Guys to Wear This Season
Putting together a holiday outfit for guys can feel like a daunting task. How do you look festive, yet appropriate? Dressy, yet comfortable?
Here's the good news. Embracing the spirit of the season doesn't mean you have to look one sleigh bell short of a Santa suit.
Nailing your holiday party outfit is all about elevating a typical party look, leaning into the colors of the season (tastefully!) and piling on the texture.
Even better news? Style Girlfriend's done the hard work of window shopping for you!
No matter what kind of festive events you've got penciled in on your calendar, you'll find outfits here that will work for the occasion.
Here's what you'll find in this holiday party outfit guide:
Below, check out stylish holiday party outfit ideas for guys this season:
What to wear to a casual holiday party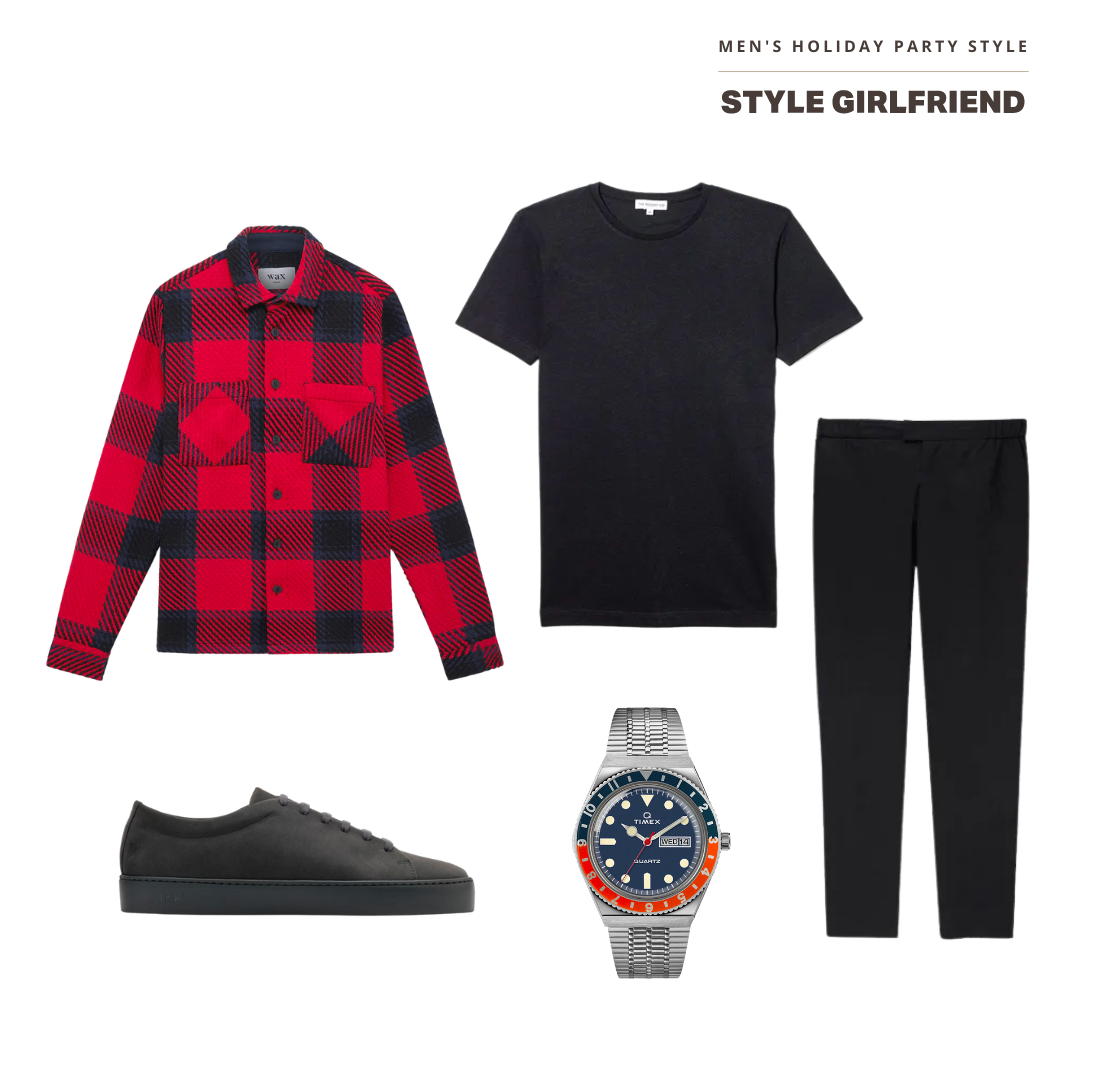 Where to wear it: an after-work drinks event, your friend's white elephant gift exchange
Shop the outfit:
SG Says: The reason this casual holiday party outfit works is because it's festive without being obnoxious about it.
Buffalo plaid? That's seasonal as hell. But anchored by an all-black background makes for an outfit that feels special and on-theme without making you feel like a walking Christmas tree.
Way more subtle, no? The overall effect is sophisticated yet seasonal.
What to wear to a dressy holiday party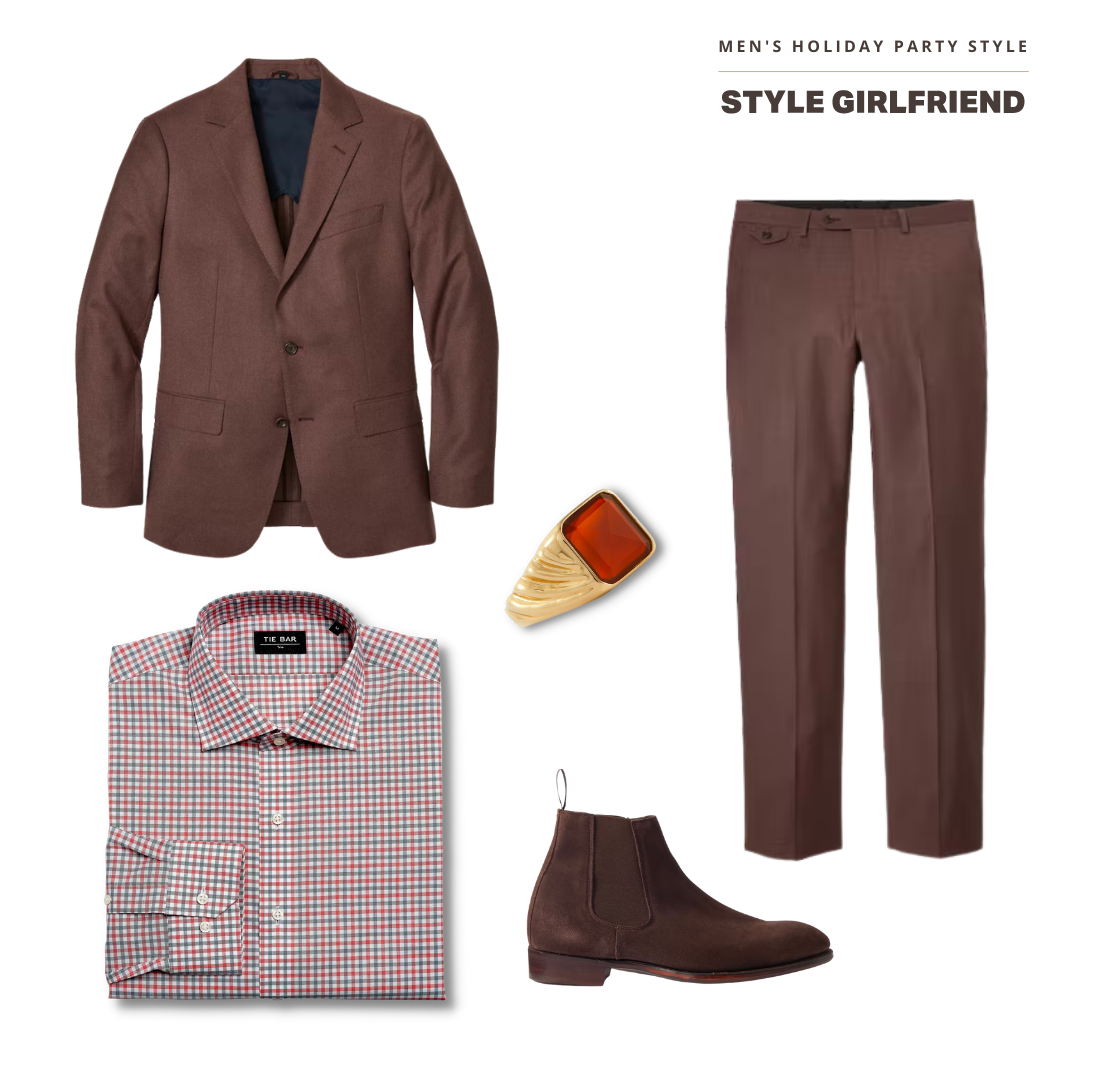 Where to wear it: the cocktail party you received a paper invite for weeks ago
Shop the outfit:
SG Says: A suit in an unexpected color, sans tie, is always a good bet for a dressy-ish party.
This outfit looks stylish in a lived-in, "This ol' thing?" kind of way.
The suede Chelsea boots keep you from feeling like you're dressed up for work, while the jaunty signet ring says, After party at my place.
An outfit for celebrating at home
Where to wear it: by the fire with family and friends
Shop the outfit:
SG Says: Whether you're hosting or attending festivities at home, aim for upscale casual with your outfit.
Sure, you're spending time with loved ones who may have seen you in your Christmas morning jammies, but that doesn't mean you should look sloppy. Go hard or go ho-ho-home this holiday season!
This knit polo sweater looks just a little more elegant than a crewneck sweater, while the tapered jeans and loafer combo feels fun and special.
Holiday style tips
Lean on re-wearable pieces. Instead of one-time-a-year outfits, go for elevated basics that looks festive when paired together but regular ol' stylish when apart.
If you celebrate the holidays somewhere warm, keep your look cozy by adding light layers like cotton sweaters and flannel shackets.
***
Want to know what to wear over these outfits when heading for the door? Check out our favorite coats for guys this winter.
feature image: Goop