Zendaya crowned CFDA Fashion Awards Fashion Icon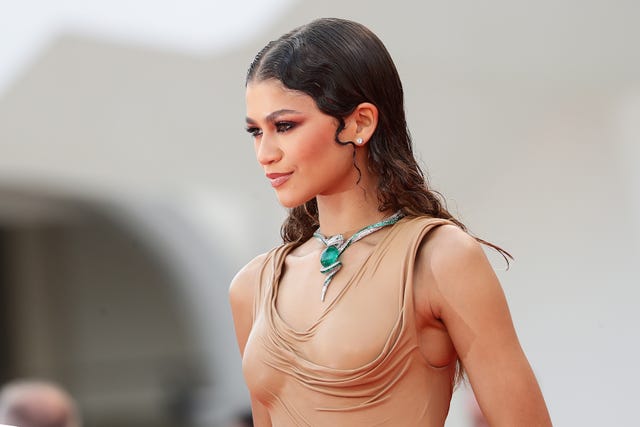 Vittorio Zunino CelottoGetty Images
It comes as no surprise that Zendaya has just been chosen by the CFDA as the Fashion Icon for the organisation's upcoming awards.
The actress, who has made a real name for herself on the red carpet over the past year, is being recognised for her contributions to the fashion industry.
Zendaya's accolades include launching gender-fluid clothing collection Daya by Zendaya, in collaboration with Tommy Hilfiger, as well as becoming a spokesperson for Lancôme, Bulgari and Valentino.
The star's red carpet looks are some of the most talked-about ensembles of the year. Recently, thanks to the help of her stylist Law Roach, we have been treated to a vintage Versace gown that paid homage to Beyoncé, another vintage moment in a YSL look once owned by American businesswoman and trailblazer Eunice Johnson, a breathtaking Balmain look at the Venice Film Festival Dune premiere and even a glow in the dark Valentino gown to the Oscars.
The star joins past winners of the Fashion Icon award, such as Naomi Campbell, Beyoncé and Lady Gaga.
Fellow actress Anya Taylor-Joy will also be honoured, it has been announced. She will take home the Face of the Year at the 2021 CDFA Awards.
This isn't the first time Zendaya has been awarded by the fashion industry. Last year, she won the 2020 Visionary Award a the Green Carpet Fashion Awards, which celebrates equality, inclusivity and sustainability in fashion.
"It's an incredible honour and means the world to me… Throughout my career I have had the privilege of being able to showcase other different types of beauties," she said at the time.
"Through the work that I get to do, creating more positions of power, more creative positions and I hope to continue to be able to do that, until this industry really does reflect the beauty that I see every day."
The Council of Fashion Designers of America Fashion Awards premieres on 10 November.
This content is created and maintained by a third party, and imported onto this page to help users provide their email addresses. You may be able to find more information about this and similar content at piano.io