Woman Accuses Carvana of Not Inspecting Vehicles in Viral Video
A woman who claims she used to work for Carvana went viral after alleging the company does not inspect damaged vehicles when purchasing.
Neasha, or @luhv_xxpozed on TikTok, replied to a video asking people to share company secrets because they no longer work there.
In the video, which received more than 119,000 views and was duetted by a popular TikToker, Neasha claimed she was a member of management at Carvana for three years.
"They are not inspecting those vehicles," Neasha said in the video. "They're taking cars in with frame damage and not inspecting the frame damage. They are selling you guys cars with unreported accidents, cars with accidents that haven't shown up on the car facts sheet yet."
In her video, Neasha explained that if someone is past the seven-day money-back guarantee but want to return the car, they are "screwed."
"They don't care about your BBB complaints, those are being responded to by regular customer service reps," she explained.
Neasha went on to say that if someone feels that they were sold a subpar vehicle and do not have a lawyer the best suggestion she had was to file an attorney general complaint.
"That's the only way that you're gonna get help," Neasha said.
According to Carvana's reconditioning standards, the company promises that every vehicle undergoes a "rigorous four-step inspection process."
The Carvana website stated that the four-step inspection process includes a pre-purchase inspection to review the mechanical and structural integrity of the vehicles, a test drive, verification that the vehicle meets "strict mechanical and cosmetic standards," and a final inspection before the car is sent to a customer.
A day after Neasha posted her TikTok, popular TikToker Keshawn or @lifewithkey_ duetted her video which received over 846,000 views. Keshawn, who has more than 535,000 followers, commonly shares advice and information about purchasing and selling a car.
"Carvana exposed," the on-screen text read in Keshawn's duet of Neasha's post. "Don't buy from them."
Keshawn told Newsweek that he decided to duet Neasha's TikTok because he is an "advocate for being satisfied with the vehicle you buy."
He also told Newsweek that he has heard a lot of "horror stories" about Carvana and felt compelled to share Neasha's video.
"There's a video of the transporter dropping a vehicle when delivering it," Keshawn said.
He also mentioned that some states are banning Carvana due to problems with vehicle tags and registrations.
In North Carolina, Carvana was banned from the Raleigh area until January 2022 after the North Carolina Division of Motor Vehicles sued the company.
The NCDMV claimed Carvana failed to deliver titles to the DMV and was selling vehicles without a state inspection. The lawsuit also claimed Carvana was issuing temporary out-of-state tags for a vehicle that was sold to a person living in North Carolina.
The Florida Department of Highway Safety and Motor Vehicles is also threatening to ban Carvana in the state after the company failed to provide customers with titles, registrations, and tags in a timely manner.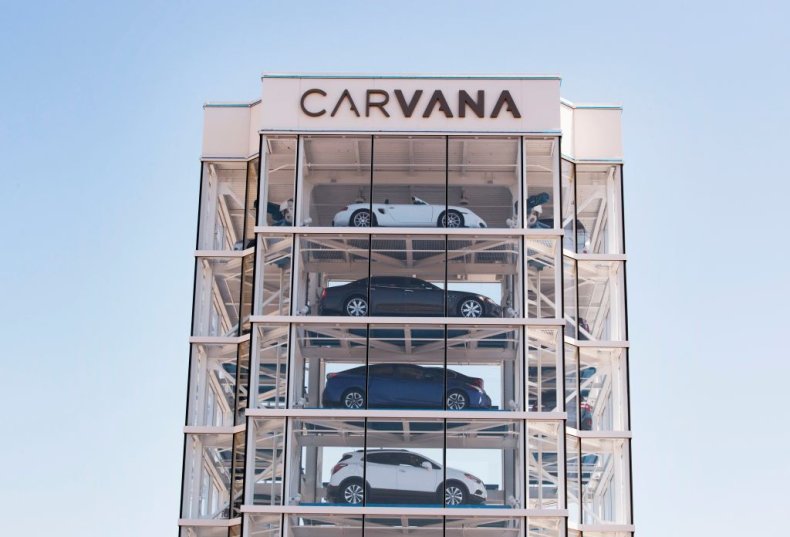 In the comments of both Neasha and Keshawn's videos, many users shared their experiences with Carvana while others shared other stories they'd heard about on TikTok.
"I used to work here, everything she's saying is accurate," one comment read.
"I know they didn't fully inspect my car because I found a french fry box in the backseat," one user commented.
Others mentioned that although they should not purchase from Carvana, they could take advantage and sell their car to them.
"I sold them my wrecked, no a/c working car like nothing was wrong and they gave me the value of nothing wrong," another user wrote. "Bro was like looks good."
But some said they purchased their cars from Carvana and had no problems.
"I purchased a luxury vehicle from Carvana in May 2021 and have no problems," one commenter wrote.
"I bought a car 5 years ago from them and it's in great shape still," another user said.
Newsweek reached out to Carvana for comment.