'Squid Game' Doll Replica Placed in Shopping Mall Leaves Parents Freaking Out
A giant Squid Game doll that has appeared at U.K. shopping malls has been criticized by parents who say they're trying to shield their kids from the bloody Netflix show.
The South Korean series has taken the world by storm, with the games played—and banned—in numerous schools, while Halloween saw legions of fans pay homage to the characters.
The deadly games in the show included marbles and tug-o-war, although perhaps the most memorable was Red Light, Green Light from the first episode.
Played against a giant doll, which was later discovered to be real and residing in a Korean museum, an animatronic replica has been slammed after going on tour around the U.K.
The animatronic 10-foot doll, in its iconic yellow and orange outfit, appeared at malls across the country at a pop-up event hosted by Netflix.
Accompanied by guards in typical Squid Game attire, the streaming giant stressed only fans aged 16 and over were welcome to pose for snaps with the doll, according to Metro.
While there were also cookies featuring the four symbols from one of the challenges on offer, and the business card-cum-invitations were handed out to shoppers.
But the giant doll, along with its moving head and eerie singing, was slammed by parents, who called the program "violent" and the doll "horrific."
A clip of the figurine was posted to Facebook group Manchester Family, part of the Manchester Evening News (MEN) where it amassed 125,000 views after being shared on Saturday.
Local residents slammed the decision to install it at such a prominent location, with Susan Ward writing: "I was a massive fan of this programme it was fantastic but this really is not for children viewing/access the shopping centre should be ashamed of themselves!"
Grace Angela Parkinson thought: "This programme is violent and this should never have been allowed in a family environment."
Susan Corlett commented: "Horrific programme and really shouldn't be in there and surprised by bosses who let it be in. Not exactly a family viewing programme is it."
Clare Johnson said: "Absolutely shocking. In schools we are trying to make sure kids aren't watching it and it is being promoted like this in the Trafford Centre. Lost for words."
While Kellie Mcleod pointed out: "That's freaky think it will scare kids especially kids that are special needs like my daughter."
And Ashley Greenhouse added: "The worlds gone mad why the hell would you advertise that… no wonder kids are turning out like they are."
Some had no problem with it, as Liam Woinson commented: "People are worried about a bloody robot from a popular T.V. series but will walk their kids past Ann Summers [a British retailer specialized in sex toys and lingerie]."
"Children do not see what we see. As adults now we look back and realise what things meant especially adult humour. If I was 6 I would think a big robot girl," Becka Jacobs wrote.
A spokesperson for the Trafford Centre said in a statement to Newsweek: "The Squid Game activation in the centre was a static, one-day selfie opportunity for adult fans of the popular Netflix TV show to enjoy.
"The doll appeared as part of a U.K. tour, allowing fans aged 16 and over to see the doll close-up and pose alongside for pictures. Anyone aged under 16 had to be accompanied by an adult."
The doll first visited the Westfield shopping center on Halloween, followed by Manchester's Trafford Centre and Birmingham's Grand Central station on November 6.
Squid Game quickly soared in popularity to become Netflix's most popular show, with more than 111 million viewers in its first 28 days, according to the streaming platform.
Written and directed by Hwang Dong-hyuk, it was released on the streaming platform on September 17, and tells the story of a group of heavily indebted people trying to win a pot of $38.6 million (45.6bn won).
They have to play children's games to get the cash, but if you lose, the penalty is death.
Newsweek reached out to Netflix and The Trafford Centre for comment.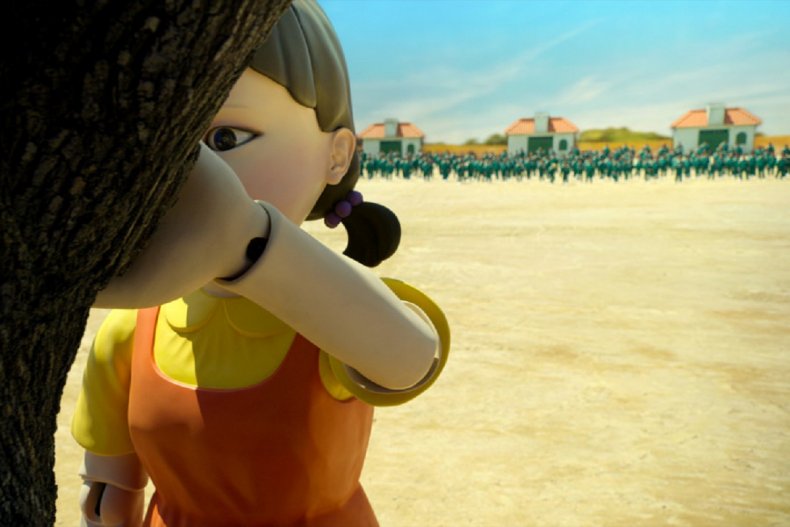 Update 10/11/21, 4:56 a.m. ET: This article was updated to reflect a company statement was sent directly to Newsweek.