Welcome to the Hyperdrive daily briefing, decoding the revolution reshaping the auto world, from EVs to self-driving cars and beyond.
News Briefs
Tesla shares look primed for a first-quarter earnings jolt. 
SK IE Technology's battery materials IPO fetches $2 billion. 
There's a clash over mining metals for EVs on the ocean floor.
Standing Out In China
Across almost all of the world, the challenge for carmakers is still to convince consumers to make the switch to any electric vehicle. In China, auto companies are grappling with a different task — how to make their battery-powered models stand out in an increasingly crowded market.
There were about 518 new energy vehicle options – both fully electric and plug-in hybrids — available to buyers in China last year, up from just three models in 2012, according to WAYS Information Technology. In the past three years alone, the number of purely battery-fueled vehicles on offer has almost doubled to 244, BloombergNEF data shows.
That boom in consumer choice has been prompted by the explosion of local EV makers and the arrival of domestically-produced Tesla cars. It represents a huge shift in a market where Volkswagen has sold more than 4 million vehicles under the Jetta brand alone.
Buyers here in China have long been used to paying a premium to get hold of hot-selling cars, or just to ensure a new vehicle is delivered on time. Now they find the auto sector is fighting for their attention.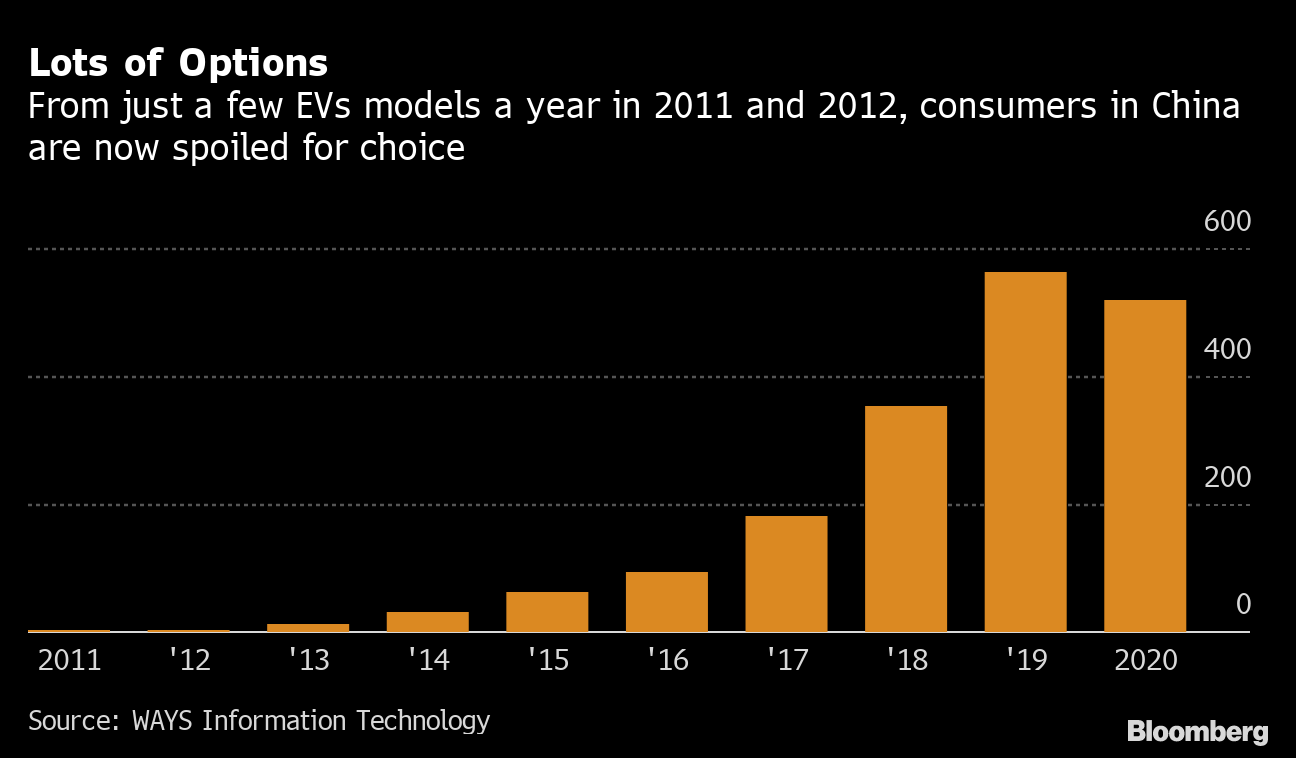 That's why I was chatting about cats recently with Wei Jianjun, chairman of Great Wall Motor Co., China's biggest SUV producer. The firm that's been best known for its rugged off-road vehicles is branching out with the Ora range of electric city cars.
Not only do the cars have a striking, retro-style shape, and oversized, bulbous headlamps, they come with unusually cutesy model names, including White Cat, Black Cat, Good Cat and Flash Cat.
When I asked Wei to explain the feline focus in naming the vehicles, he answered with his own question: "Don't they leave you with an impression?''
It's now branding, not only performance and price, that's on the minds of auto executives in the world's key EV market.
For U.S.-listed XPeng, that can include a distinctive strip of LED lights across the front and rear of its P7 sedan. Fellow upstart NIO has a themed clubhouse in a glitzy Shanghai shopping mall, while Zhejiang Geely wants to make its Zeekr car brand ubiquitous by expanding the name beyond vehicles into areas like clothing and food.

Just as importantly, car makers are also beginning to target their models at specific groups of consumers. Great Wall said last month it would focus the Ora lineup directly at women, and wandering around the firm's pink-colored stand at the recent Shanghai Auto Show, it was clear to see their attempts.
The stall had a DIY activity area where visitors could make their own lipsticks, perfume and eyeshadows. Features being highlighted included an automatic parking function and slots in the interior trim to store shoes or cosmetics – details the firm said it believes will appeal to women. Others may squirm at the stereotyping.
Is the branding push working? Well, Ora sales jumped more than 1000% in the first quarter to 30,683 units, compared to the pandemic-hit first three months of 2020. About 70% of buyers last month were women, according to the company.
Before You Go

Even if motorcycle enthusiasts are ready to accept a Harley-Davidson that moves with a whisper rather than a roar, they may balk at the price. As Bloomberg's Kyle Stock writes, the company's new all-electric LiveWire costs $29,799. Its gas-powered equivalent can be picked up for about a third of that amount and still gets more than 50 miles to a gallon.