Bath & Body Works Blasts Woman for Claiming Products Cause Infertility
A viral Facebook post alleging that certain products sold at Bath & Body Works cause various issues to females' bodies was met with backlash by the company and an environmental group.
The post was published April 18 by Jillian Autumn, who writes that "Bath & Body works products are actually not recommended to use while pregnant." The post has since been shared over 100,000 times.
She cited the company's safety data sheets posted online, which include wording that products may be "suspected of damaging fertility or the unborn child" or "may cause damage to organs through prolonged or repeated exposure."
"Imagine how harmful they are to our pre-teen and teenage daughters? No wonder we have so many women struggling with infertility, hormone disruptions, migraines, thyroid complications…I could go on and on!" Autumn wrote.
She adds that individuals need to do their own research on products that contain fragrance, triclosan, parabens and formaldehyde, and other chemicals.
A Bath & Body Works spokesperson told Newsweek that the online safety data sheets are not generally meant for consumers and are more directed toward large companies and personnel that handle, store or dispose of large quantities of chemicals in industrial and manufacturing settings.
"Every Bath & Body Works product undergoes extensive review to ensure safety," the company said in a statement. "Safety Data Sheets, like the one in the social media post, do not reflect the safety of products when used as directed. These sheets are a standard practice in the home fragrance and consumer products industry.
"Bath & Body Works posts these sheets to assist manufacturing companies and emergency personnel who need to know how to handle, store or dispose of large quantities of chemicals in industrial and manufacturing settings. As with any product a customer may use during pregnancy, we encourage them to consult a doctor if they have specific questions."
Autumn's post also alleges that Bath & Body Works pays Environmental Working Group (EWG)—which informs consumers about the chemicals they're exposed to and offers tips to reduce daily exposures—for positive product ratings listed online.
She never provided any evidence to support such allegations.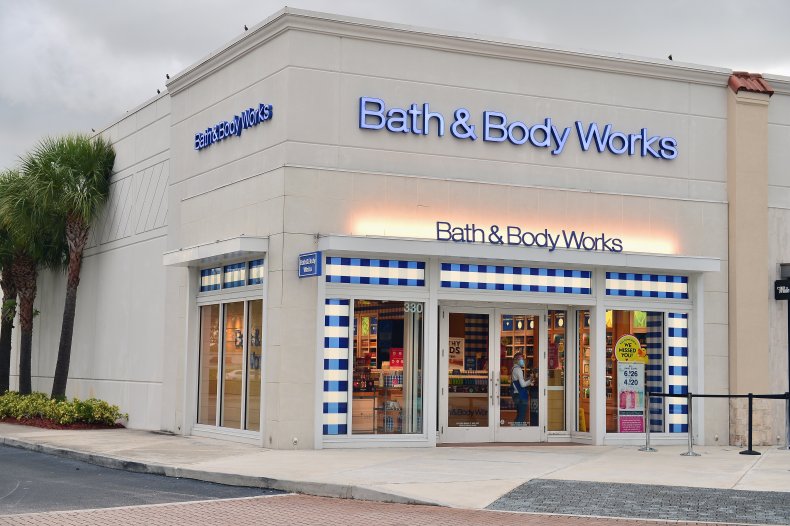 According to its website, EWG has since 1993 "shined a spotlight on outdated legislation, harmful agricultural practices and industry loopholes that pose a risk to our health and the health of our environment."
When inquired about the ratings process and the allegations Autumn made regarding payments for better overall scores, an EWG spokesperson referred Newsweek to an April 21 statement made by the company that specifically addresses the Facebook post.
"Contrary to what the post claims, EWG does not charge a fee for a product to be rated in either our Skin Deep cosmetics database or our Guide to Healthy Cleaning," the statement reads. "Companies cannot pay to have a better hazard score in EWG's databases."
It also responded to the mention of air fresheners in the post, stating that it is "unclear" as to why EWG was mentioned regarding a product that is not in its database–as well as attempted to sway consumers for the past decade to ditch the product altogether.
"EWG has previously conducted tests for airborne pollutants and indoor air quality after air fresheners and other cleaning products were used, and we are currently conducting another round of product tests to understand how products with fragrance may affect health," EWG said. "Our work has and will always put protecting public health first."
The spokesperson said EWG has a team of scientists that manages multiple databases, including its Skin Deep cosmetics line, Guide to Healthy Eating, and Food Scores—all included as part of over 120,000 product ratings available on its Healthy Living app.
Bath & Body Works also vehemently denied the post's allegation, saying the company "has never paid money to the Environmental Working Group."
Facebook has flagged Autumn's post as "missing context," adding that "independent fact-checkers say this information could mislead people." The post remains accessible.
Newsweek reached out to Autumn and Facebook for comment.